Despite Covid-restrictions, Montreal has remained a vibrant city whose diverse artistic community continues to produce note-worthy collaborative projects that reflects the culture and heritage of its populace.
La Chapelle launches Webcast of SKIN –presented by The Bakery and La Chapelle, scènes contemporaines with ASL Interpretation and French Subtitles
April 21 + 22 + 23, 2021- 7 p.m. FREE !
La Chapelle is proud to present Leslie Baker's most recent creation: SKIN in 2 different webcasts, one with ASL (American Sign Language) interpretation and the other with French subtitles. This is La Chapelle's first ASL interpreted show since their opening, thirty-one years ago!
SKIN // Inspired by a photograph of a partially illuminated door and Seneca's famous essay On the Shortness of Life (49 AD), Skin is a dreamlike reflection on the value and duration of human existence. The play explores the theme of the satisfaction of living, through formally distinct segments, each one proposing a singular scenographic universe.
Baker is a member of THE BAKERY : an experimental, theatrical laboratory founded in 2016, that celebrates 15 years of collaboration and continued efforts to create works in the spirit of interdisciplinary arts with contemporary themes. The company consciously strays from traditional theatrical structures: Forceful bodily expressions are paired with images, sounds and text to present performances that emphasize the sheer joy of the living arts.
Co-presented by La Chapelle Scènes Contemporaines and Centaur Theatre, Skin was created specifically for video and featured as part of the Wildside Festival. 
The webcast will be launched Wednesday, April 21 – 7 p.m. Free tickets will give you unlimited access until Friday, April 23 – midnight.
This unique project has been made possible thanks to the Conseil des arts de Montréal's support for the ASL interpretation, and the Cole Foundation for the French subtitles version, as part of our accessibility program La Chapelle more bilingual than ever.
BANDE-ANNONCE / TRAILER VIDEO – THE BAKERY + CENTAUR THEATRE / SKIN – ASL Version LSA on Vimeo
LA CHAPELLE | 3700 Saint-Dominique, Mtl. | lachapelle.org
Webcast (ASL & French subtitles)
---
Looking to revamp your spring wardrobe or just searching for overall inspiration?
Founded in 2014 by Emanuela Lolli, Fashion Preview is the bi-annual, glamorous, three day fashion event that showcases local Montreal Designers while providing an intimate venue for professionals in the design and fashion realm to network.
---
This year, they are proud to present an all-digital edition this Thursday, April 22nd, 2021 at 6:00 p.m., on its web platform at the following link: www.fashion-preview.ca/fp2021
On the agenda for this new edition:
A significant number of fashion films showcasing the creations of Montreal designers, a roundtable discussion with Montreal's three main fashion schools and much more!
On the official program of this new edition will include the following Montreal designers: Gazelles, Guillaum Chaigne, Marigold, MasMontreal, Tristan Réhel, Genia Evelina, Bertrand La Ligne, Beurd, Kuwalla Tee,This Ilk, Guillotine, Marc Alexandrin, Mamé, J3L Lingerie, Kinsu, Summer Memories jewelry, Isabelle Michel bijoux, Ambika Jewelry and the Marie-Victorin College of Fashion !
A round table conference, moderated by Lolitta Dandoy , will bring together three Montreal fashion schools: (Marie-Victorin College of Fashion, LaSalle College and the ESG UQAM Graduate School of Fashion) to give juicy updates on 2021 trends.
FASHION PREVIEW 2021 : Thursday, April 22nd, 2021 at 6:00 p.m.,
Stream from its web platform at the following link: 
HERE : www.fashion-preview.ca/fp2021
---
Embodiment 2
Curious about Ai, Tech , cyborgs, bacteria, humanoid figures and the future of humanity ?
Montreal Dance Company Van Grimde Corps Secrets presents the virtual exhibition Embodiment 2, Curated by Isabelle Van Grimde available FREE online from the 8th of April to May 8th.
The new virtual exhibition is a multidisciplinary show featuring three elements: a dance; a film by Dr. Brad Necyk ( Professor at University of Alberta & the University of Victoria) and Gary James Joynes, as well as EVE 2050: The Web Series by Van Grimde Corps Secrets and DAVAI.
---
The project really stands out from other multimedia dance presentations in that the show has some fascinating scientific details, in addition to artistic ones. The ideas are based on research by several scientists and artists into the body and the future of nature and machine.
For example : The featured tower in the first chapter of Eve 2050, entitled Origin, whose texture is resin-like, with images of beehive cells, is "alive" since it was built with the help of bacteria.
The collaboration features dance, motion capture images for a virtual reality prototype & projections that go directly on the dancers' bodies, film, sound design & sculpture all in one presentation.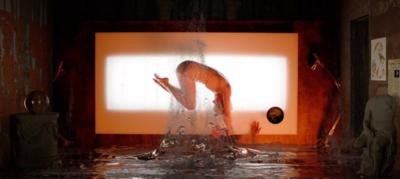 In the film Birth of the World we see exoskeletons & skin being re-created in an artistic presentation on the dancers' bodies.
The film is a response to some research and ideas on the way our very bodies are changing moving into the future. The film "begins somewhere in the future," explains Necyk. "Time passes and passes as we witness the birth of a new world. Two survivors connect, attempt to heal themselves, alone in this new world."
The Eve 2050 Web series features digital technologies like image analysis & movement-sensing systems and the latest interactive technologies, so that the visual effects that transform Eve in the series are generated in real-time, not in post-production.
The figure of Eve in Eve 2050 represents the idea of man, woman, cyborg all being part of what a "body" will be in the future. Movement tracking technology used on dancer Sophie Breton was used by Brad Necyk to animate the water in his film in the exhibition.
---
To view Embodiment 2, available FREE online from the 8th of April to May 8th.
CLICK : HERE