×
Byfleet Manor
Home of the Dowager Countess, played by Maggie Smith, in Downton Abbey.
×
Inside Highclere Castle
A shot of the library inside Highclere.
×
Aerial view of Highclere Castle
×
A view of Oxford
×
Big Ben in the evening
×
The House of Lords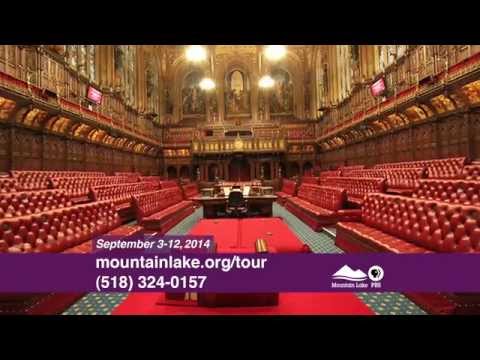 Join Mountain Lake PBS for a memorable trip to England September 3-12 2014! 
---
Download the complete itinerary here.
Download the registration form here.
Balance due date: July 5th, 2013
---
Tour highlights
Private exclusive tour and reception at Highclere Castle.
Private tea at Byfleet Manor, setting for the home of the Dowager Countess 
Private guides, talks and visits with experts on British history and the Downton era in particular
Tours of major historical sites in London and elsewhere, including the Houses of Parliament, Westminster Abbey, Windsor Castle, Blenheim Palace, Oxford and its University and Colleges, Lacock Abbey, Bampton Village (Downton village scenes), Bath and Sandham Memorial Chapel (WWI memorial)
Prime tickets to a theatre performance in London, plus evensong in Oxford
Deluxe 4-star accommodations in London, Oxford and Ston Easton
---
Masterpiece's Downton Abbey has seduced audiences both in Britain and here "across the pond," with its superbly crafted script of simmering subplots and four-dimensional characters, deftly portrayed, upstairs and down, by an unforgettable cast. On a tour of historic England, we discover the world of Downton in fact and fiction, past and present, culminating in an exclusive private tour and reception at Highclere Castle, the setting for Downton Abbey.
From Edwardian London and the iconic Houses of Parliament, to the Georgian splendour of Jane Austen's Bath and the hallowed halls of Oxford, scholars and expert guides help us explore our enduring fascination with the aristocracy, their grand estates and how they survive today. Learn the codes they live by, their manners and customs, their dress and lifestyle. Hear about the changing roles of women and life "downstairs." 
We'll have high tea where the home of the Dowager Countess, played by Maggie Smith, is set and stroll the streets of "Downton" village. We'll tour the House of Lords, where Britain's gentry once passed abiding laws, and Westminster Abbey, where many lay buried. We'll visit their elite schools: Eton College, which almost every British Prime Minister has attended, and prestigious Oxford University. 
We'll put all this in context with visits to other Masterpiece locations and historic sites. What did Jane Austen's bonneted women really do in Bath? Why is the Royal family called Windsor? Where did the fictitious Lord Grantham go to school? Was life below stairs so rosy? Do Inspector Morse's professors really discuss Shakespeare in pubs? We'll enjoy an evening of theatre, lodge in 4-star hotels, take over our own country house and dine in fine restaurants.