×
USINE C
RUNNING SUSHI
Austrian playwright Chris Haring, from the company Liquid Loft, invites the public to his latest piece: RUNNING SUSHI in which the audience decides on the order of the 12 sequences that make up this extraordinary and unique performance designed for two dancer / actors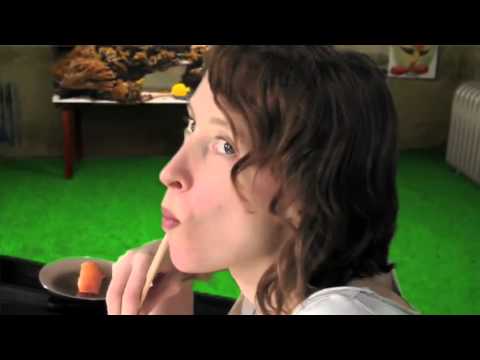 "Sushi, Maki, Teriyaki, Miso "... These terms describe some of the different dishes that can be found in Kaiten bars, conveyor belt sushi bars; a popular style of sushi restaurant in Japan in which customers are invited to pick and choose the sequence of the platters they wish to eat.
   Following this pattern, Austrian playwright Chris Haring, from the company Liquid Loft, invites the public to his latest piece: RUNNING SUSHI in which the audience decides on the order of the 12 sequences that make up this extraordinary and unique performance designed for two dancer / actors, interpreted brilliantly by Stephanie Cumming and Johnny Schoofs.
   By deliberately throwing the narrative out of order, Haring offers the audience a really extraordinary experience that truly centers the viewer's attention on the intricate details of rhythm and very precise dance sequences both performed and vocalized by the actors.
   Trying to piece together the shuffled narrative, we willingly force ourselves to pay attention to every detail, facial expression and gesture that may hint to the whole picture and nature of the piece.
    At first glance the play appears to be a cut-out scene straight out of a Japanese manga comic; On a white raised floor,  we see a young couple, probably in context a Japanese salary man and a young aspiring starlet, that are trying to build a life together while going through all the normal ups and downs that a romantic relationship can bring.
However simple this initial premise may sound, the play is laden with heavy pop culture imagery stemmed from Manga and the Superflat graphic movement that are very visible in the props, themes and decors of each of the twelve sequences. Most notable is the background music from samurai /giant robot anime shows, android movements, robotic gestures, multi-functional oranges, grand philosophical discussions, animal voice over's and the use of numerous chopsticks in the most unusual ways.
  My favorite sequence involved both actors slowly placing and balancing chopsticks between each others arms (symbolizing the building blocks of their fragile relationship) only to have the chopsticks crumble and fall one by one; a very innovative visual esthetic, that in my opinion, shows the high culture value of the play.
   I really loved the way that the play makes us question the way we perceive traditional dance and stage performance, while also pushing the viewers to ponder about the nature of consumerism in our society as well as throwing a humorous light on romantic life as a couple.
Maki....Sushi.... anyone?
---
L'Usine C presents
08 -09 -10 October   8 pm
By Chris Haring / Liquid Loft 
DURATION:  70 minutes
GENRE : DANSE – THEATER PERFORMANCE