×
Gina Fioreli
High school student Gina Fioreli is featured in the film.
×
The Resilient Ones Teaser
A 2-minute teaser trailer from the upcoming documentary, "The Resilient Ones: A Generation Takes on Climate Change".
×
Students at Fledging Crow
A group of students speak with one of the farm owners at Fledging Crow Vegetables.
×
Erin Weaver
Erin is another high school student featured in the film.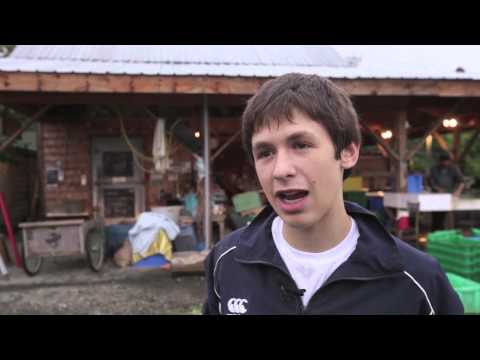 "The Resilient Ones: A Generation Takes on Climate Change" Looks at the Strategies of Adirondack Communities Adapting to Climate Change Through the Eyes of High School Students.
Plattsburgh, NY –  Mountain Lake PBS and Bright Blue EcoMedia have teamed up to look at the effects of climate change in the Adirondacks, and the next generation of visionaries working to make a difference. Now they're turning to you, and the internet, to help fund the project.
In August of 2011 Hurricane Irene ripped through the Adirondack Mountains of Northern New York, destroying lives and village infrastructure and upsetting the delicate ecological systems in this pristine wilderness area. Once seemingly immune to the effects of climate change, Irene exposed how even mountainous inland areas can be just as vulnerable to extreme weather events. 
In the aftermath of the storm, three high school students take us on a journey through the region to meet local leaders and innovators as they search for both short-term adaptive strategies to extreme weather and long-term solutions to reducing carbon emissions. Cody Bary, Erin Weaver, and Gina Fioreli gather experience and information as they prepare for and host the 2013 Youth Climate Summit, where 400 students meet, collaborate and draft action plans. 
The film demonstrates how this region serves as a bellwether for climate change in the rest of the country and sounds a clarion call for awareness, and both individual and collective response. 
In addition to the high school students that the film follows, a host of experts are interviewed including: Curt Stager, Professor of Natural Sciences, Paul Smith's College; Jerry Jenkins, Wildlife Conservation Society; and Ken Mudge, Dept. of Horticulture, Cornell University.
Funds are being raised through Kickstarter.com, a site where individuals are given the opportunity to invest in projects that match their interests. This film, The Resilient Ones: A Generation Takes on Climate Change, has a 30 day fundraising window, from start to finish, and if the $8,500 budget is not raised by May 7th, all the pledges will be cancelled.
"Kickstarter is a unique way to spread the word about a project to people that we wouldn't typically reach," said Dan Swinton, Director of Production and Content at Mountain Lake PBS. "This story takes place in our back yards, but climate change is a global issue."
Find the project on Kickstarter at https://www.kickstarter.com/projects/1471395201/the-resilient-ones-a-generation-takes-on-climate-c.